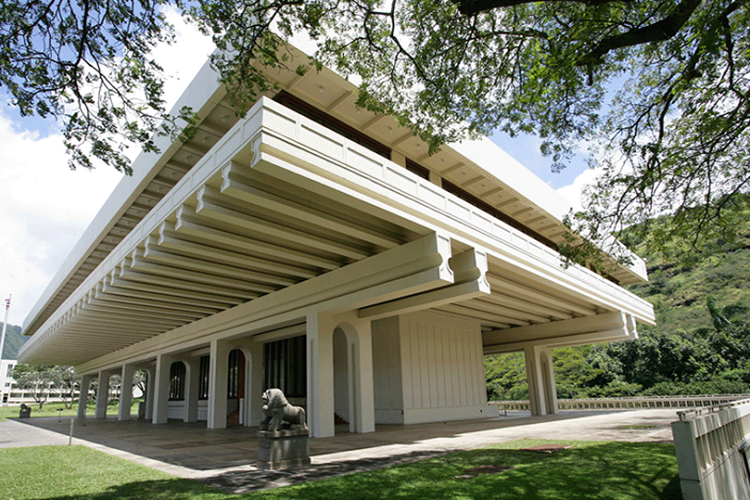 The East-West Center, primarily known for its role in promoting understanding among the nations of Asia, the Pacific and the United States since its establishment in 1960, also welcomes conferences, meetings and workshops by other non-profit organizations.
The Center's 21-acre campus is ideally situated in a lush, quiet area adjacent to the University of Hawaiʻi's Mānoa campus. It is convenient to all of Honolulu's resources, yet feels a world away from the bustle of Waikiki and downtown.
The Hawaiʻi Imin International Conference Center; designed by the prominent architect I. M. Pei; focuses on local, national and international audiences, and offers outstanding resources to produce successful events of all kinds. Because the East-West Center is a 501(c)(3) non-profit education and research institution, the Center can make its facilities available at a reasonable cost to eligible applicants.
With 12 meeting rooms, a large auditorium, a business center and spacious lānai, the Center offers more than 17,000 sq. ft. of conference space to accommodate groups requiring conference, reception, banquet and workshop facilities. See Facilities Descriptions. See second floor room layouts. The Garden Level, designed to accommodate receptions and luncheons, overlooks the tranquil Seien Japanese Garden. Located on the ground floor of the Imin Conference Center, the 4500 sq. ft. Garden Level can be divided into 3 smaller rooms for banquets, luncheons, dinners and conference receptions. For driving directions, please see our Contact page.
Eligibility to Use the Imin International Conference Center
Eligibility to license use of East-West Center facilities is limited to government agencies, educational institutions, and 501(c)(3) nonprofit entities, and registered (with the HI DCCA) domestic nonprofit entities. For profit entities are eligible to use East-West Center facilities only under extremely narrow circumstances, which may not include any commercial activity. Imin Center does not contract with individuals.
Eligibility to use East-West Center facilities for events is limited in regard to outside organizations, allowable only when the applicant organization/event falls within the East-West Center mission, purposes, and policies.
Please note that events of an non-academic nature (graduations, reunions, memorials, parties, etc.) that do not comport with the mission, values, and vision of the East-West Center may not be eligible to use Conference Center facilities.