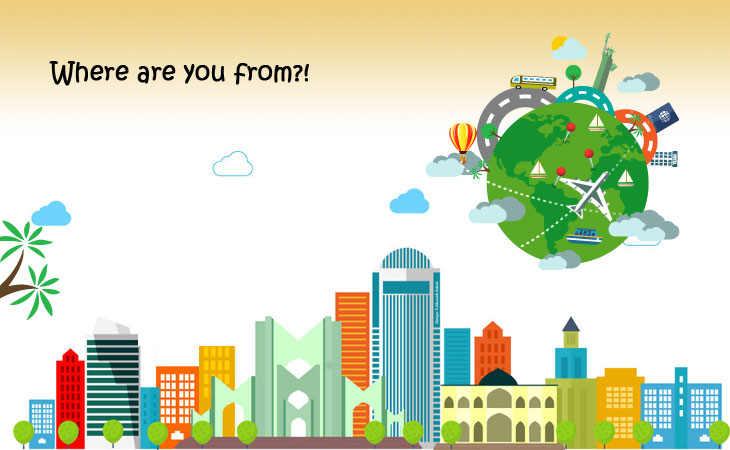 Where are you from?
Some points about tourism and development
Mohammadbaqer Najafi
It's true that tourists are real ambassadors and introducers and bearers of the mental and epistemological assets of every country. In facing foreign tourists, we are talking about the importance of the luggage they carry with them. By luggage, it does not mean the things they carry, but it means the mental accumulations and behaviors that they bring from their community.
The important point is that in an interconnected world called the Small World Village, asking the question "Where are you from?" Will make a sense of nationalism, being from somewhere is more related to traditional societies and Geographic borders are not good tools for measuring people's culture in today's world. In the modern world today, where cultural communication has the main role, it is not enough to be content with industrial developments and to be proud of having tourist attractions, but the transcendent culture and educated people are the main elements of today's societies. Saying which country you are from by itself won't be a clear and accurate definition of who you are, rather the presentation of up-to-date information and universal beliefs are the most important sign of the identity of individuals in the international community.
In other words, countries that have had cultural wealth in the past and have raised many celebrities, nowadays can't be proud of those days, and be content with it, because the new era, asks for the up to date culture and the translated language of this era, that cultural exchange and tourism is counted as a very large capacity in this field.
The experience of successful communities in the field of tourism, such as Turkey, shows that some education and understanding of the value of tourists the natives can lead to the development of communication as well as cultural, economic, and maybe political progress in an era that the slightest communication may have huge costs.
Despite having many sites and antiquities in Iran that make the country one of the top 10 countries in the world in terms of this treasure, unfortunately, we have a very small share of this very large cultural and economic context in terms of attracting foreign tourists.
For example, regarding the interest that foreign tourists have to attend and visit the cultural and ancient capacities of Islamic countries, it is necessary to make the way for more exchanges by truly introducing Iran as one of the countries with historical and cultural wealth. In order to do this, it is necessary to make a pre-assumption that each part of the world has different people and unique intellectual and behavioral characteristics that makes it necessary to recognize and form cultural relationships, because making sustainable development based on the culture of the people will only be possible by resorting to this premise and accepting its requirements.
In an age where Islamophobia has made a major obstacle to extending the communication between the First and Third Worlds, and economic sanctions are tightening their grip every day, tourism and cultural development between different nations can transcend the boundaries of politicians and make a universal social bond between different nations.