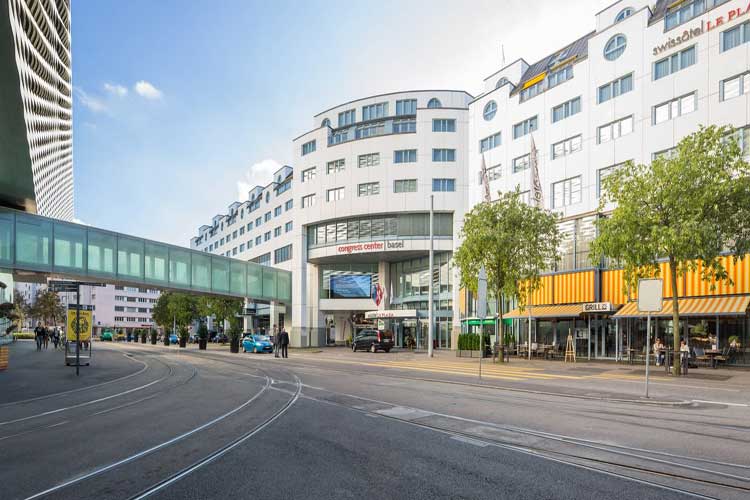 The Congress Center Basel is Switzerland's biggest congress center in terms of surface area. Located directly alongside Messe Basel, it is in the immediate vicinity of a large number of hotels and a
varied range of restaurants. A footbridge provides a direct link to the new exhibition building designed by Herzog & de Meuron, increasing visitor comfort still further and makes modern congress
infrastructure exceedingly attractive. The 25 modern-rooms are noted for their multifunctionality and variable configurations and hold up to 10'000 people.
Venue
Multifunctional rooms, professional services, and staff's expertise in organizing congresses, conferences, seminars, exhibitions, and presentations guarantee that planned events run smoothly.
Congress Center Basel hosts 250 events every year.
Our strengths
11 of the spaces at Congress Center Basel are modular, thereby allowing them to be used individually or in combination. This fact and the proximity to the modern exhibition facilities and Basel's
Musical Theatre means that event organizers can benefit from extraordinary flexibility.
Our references
Jahrestagungen der Deutschen Gesellschaft für Hämatologie und Onkologie e.V. -DGHO- (5500 participants)
World Symposium of the International Team for Oral Implantology -ITI- (5000 participants)
EACS (European Aids Clinical Society) (3500 participants)
AMEE (Association for Medical Education in Europe) (3800 participants)
Fact Sheet Congress Center Basel
Getting there
Basel is easy to get to by plane (EuroAirport Basel-Mulhouse-Fribourg), train (the international hub for European high-speed trains) or car. Direct train connection from Zurich International Airport to Basel within one hour. The situation of the Congress Center in Basel: city center location, just nine minutes from the SBB train station and five minutes from the old town by public transport.