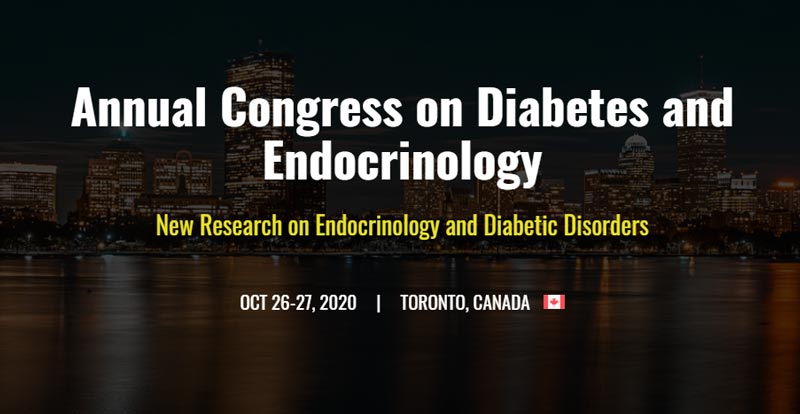 Endocrinology 2020 is going to be held on October 26-27, 2020 in Toronto, Canada. We cordially invite all the respected expertise, researchers, therapists, counselors, professors, students, business professionals, scientific communities, delegates, and executives to take part in our upcoming congress to witness invaluable scientific discussions and contribute to the future innovations in the field of Diabetes & Endocrinology.
Endocrinology 2020 is a global platform to discuss and learn about Diabetes & Endocrinology as well as its related areas of healthcare which include overview, prevalence, trends and disparities, causes and its associated health problems and co-dependent relationship between Diabetes & Endocrinology. The upcoming conference will be organized around the theme "New Research on Endocrinology and Diabetic Disorders". Discussing various imperative topics will add an insight to contemplate and speak over the bottom line of today's scientific and technological perk up. It will be an amazing opportunity for the attendees to explore the beautiful Toronto with gaining knowledge, sure to raise insights, amalgamate present with future and cogitate on ideas and reality at the conference. Endocrinology 2020 has taken this initiative to explore every aspect of Endocrinology & Advance Treatments.
Why to Attend?
This is your best opportunity to reach the largest assemblage of participants from the Diabetic and Endocrine Community. Live Events: which include Poster Presentations, Keynote Sessions, Video Presentations, Speaker Sessions providing a unique approach for healthy living, learning and career building. Attendees will be having an opportunity to build networks with experts in the field of Diabetes and Endocrinology, Business Delegates, Academics.