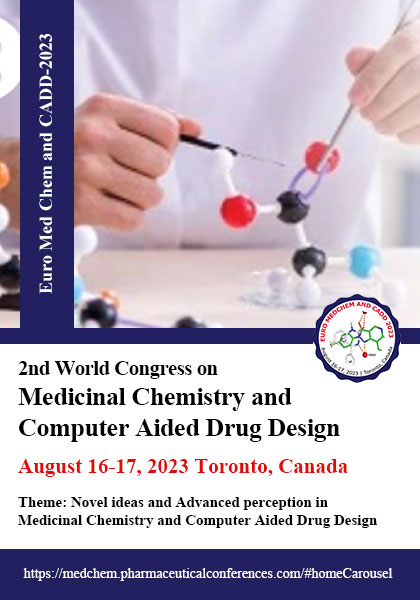 It is our great pleasure and honour to invite you to the 3rd World conference on Medicinal Chemistry and Computer Aided Drug Design. Which is to be held on Toronto, Canada during August 27-28, 2024 | Euro Med Chem and CADD 2024 Highlighting the theme "Innovations in Medicinal Chemistry and Computational Drug Discovery: Advancing Healthcare for a Sustainable Future" provides an excellent opportunity to share views, exchange knowledge and establish research collaborations & networking. This conference provides an excellent opportunity to discuss the latest developments within the field.
As a section of initiative aimed to share best approaches in medicinal chemistry the international conference is preparing the series of interesting topics under medicinal chemistry (i.e., biochemistry, molecular biology, pharmacognosy, and toxicology) and their suitable uses in the treatment of disease.
Medicinal chemistry conference serves as a global platform to discuss and learn about medicinal chemistry, organic molecules used in medicinal chemistry, Drug design and drug development, bioavailability, pharmacodynamics, pharmacokinetics, organic chemistry, pharmaceutical industry, Evolution of Organic Chemistry and Medicinal Chemistry in Pharma, Organic and Medicinal Chemistry Technologies for Drug Discovery, Drug effects, Medicinal Chemistry in Drug Discovery, Market Dynamics, Conclusions and Future Trends, Medicinal Plants.