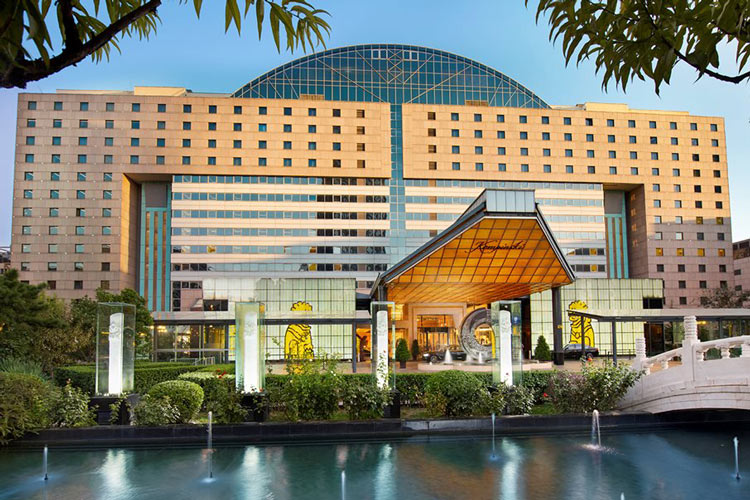 Beijing's European Landmark As the first Kempinski hotel in China, Kempinski Hotel Beijing Lufthansa Center blends timeless European style with rich Chinese cultural history to create a true Chinese experience for new-age travelers.
Kempinski Hotel Beijing Lufthansa Center houses 480 newly renovated rooms and suites, together with 10 conference rooms and one of the largest pillar-free ballrooms in the city with natural daylight.
With over 7 different restaurants and bars, YouYi shopping center, two private gardens, and easy transportation access points to some of Beijing's most iconic and monumental scenes, Kempinski Hotel Beijing Lufthansa Center is Beijing's portal into China.
Our hotel provides a variety of function rooms which can be arranged in various setups in order to fulfill your event's needs. All venues are located either on the ground floor or on 3rd floor. Most of the venues offer natural daylight and views to the garden or river. Whatever the event, the right venue supported by our experienced staff guarantees a memorable occasion. Leave the planning to us and save time by booking your next event at the Kempinski Hotel Beijing Lufthansa Center.
We are wholeheartedly committed to providing perfection for our guests at every moment and in every way. Perhaps it's something as life-changing as a wedding celebration, where our attention to detail and perfect service mean that your special day goes without a hitch. Or perhaps it's as simple as the note left on your pillow at night, which thoughtfully lets you know the weather tomorrow so you know how to dress in the morning. At Kempinski, we are each personally responsible for creating rich and meaningful experiences for our guests.