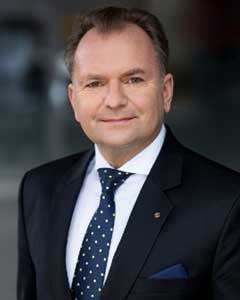 PROF. HAB. DR. MD. EVALDAS NARIMANTAS SAMALAVICIUS
Prof. Hab. Dr., MD. Narimantas Evaldas Samalavicius is an experienced abdominal (stomach) surgeon and specialist in endoscopy and colorectal surgery. A professor for 27 years, he is widely recognized as a specialist in his field both in Lithuania and abroad.
He graduated in medical sciences from Vilnius University, Lithuania, but even while still studying he started working at one of the biggest Lithuanian Red Cross hospitals (now Vilnius University Hospital Santaros Clinic, www.santa.lt) and worked there for 15 years. For 12 years after that, he worked at the Vilnius University Oncology Institute (www.nvi.lt) as head of surgery, senior research assistant and abdominal (stomach) surgeon.
Currently, the professor is a chief surgeon at the Sandyford Healthcare Medical & Dental Clinic and head of the Department of Surgery and abdominal surgeon at Klaipėda University Hospital.
The doctor specializes in the diagnosis and treatment of all operated abdominal diseases and is particularly interested in coloproctological illnesses (hemorrhoids, anal spasms, pustules, fistulas, colon polyps, etc.). He has a wealth of experience in treating these diseases. At the Sandyford Healthcare Medical & Dental Clinic, he carries out endoscopy (colonoscopy) and other procedures.
The professor is a lecturer on numerous professional subjects in both Lithuanian and English. The author of several hundred reports, scientific articles and theses in Lithuanian and English languages, he is also the author and co-author of several books on professional topics.
The professor is the director general of the world's only specialized colorectal professional association (headquartered in the United States) and is a member of many of the most prominent professional organizations in Lithuania and abroad. For his accomplished professional research, he has earned prizes and awards from a number of international associations and medical institutions, both individually and in collaboration with others.