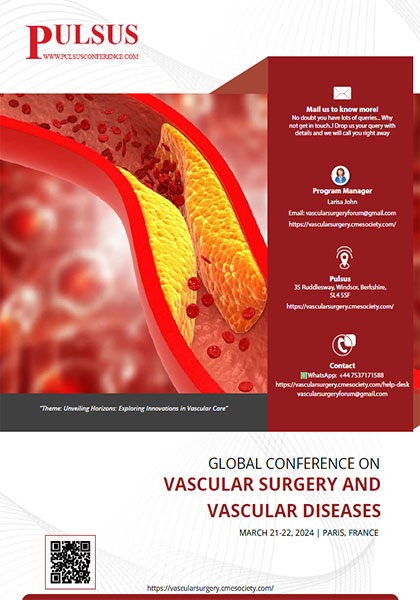 Welcome to the Global Conference on Vascular Surgery and Vascular Diseases (Vascular Surgery 2024), taking place in Paris, France from March 21-22, 2024. We are delighted to extend our invitation to you for this prestigious event.
The conference aims to attract a diverse range of attendees, including vascular surgeons, physicians, researchers, and allied healthcare professionals from around the world. With participants representing various countries, the event provides a unique platform for knowledge exchange, networking, and collaboration in the field of vascular medicine. Anticipating a significant turnout, we expect approximately 200 delegates to attend, ensuring ample opportunities to explore advancements in vascular surgery, discuss current market conditions, share best practices in patient care, and engage with fellow experts in the field of vascular diseases.
Engage with exhibitors, explore new technologies, and learn about groundbreaking solutions that are shaping the future of vascular medicine. With delegates from around the world, gain insights into international market conditions, best practices for patient care, and strategies to promote global vascular health. Don't miss this unparalleled opportunity to be part of the forefront of vascular medicine and experience the dynamic exhibitor hall.
Theme: Unveiling Horizons: Exploring Innovations in Vascular Care.