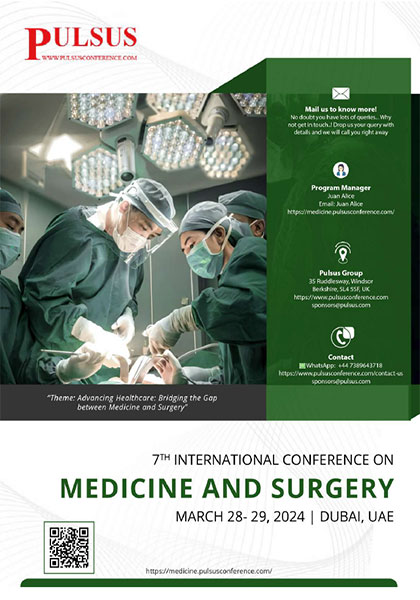 We're excited to invite you to the "7th International Conference on Medicine and Surgery (Medicine 2024)" following the success of the 6th edition in 2023. The event will take place from March 28-29, 2024, in Dubai, UAE.
PULSUS is at the forefront of showcasing the latest developments in medicine and surgery, with keynote speakers and global innovators in attendance. This multidisciplinary event offers diverse tracks and a chance to network with professionals from different fields.
Our goal is to gather global experts, business delegates, and researchers to share knowledge and innovation. Join us to connect, share your ideas, and participate in poster presentations, workshops, and more. Medicine 2024 is your platform to expand your research interests and network with global experts. We look forward to your participation in making this event a success.
Theme: Advancing Healthcare: Bridging the Gap between Medicine and Surgery.