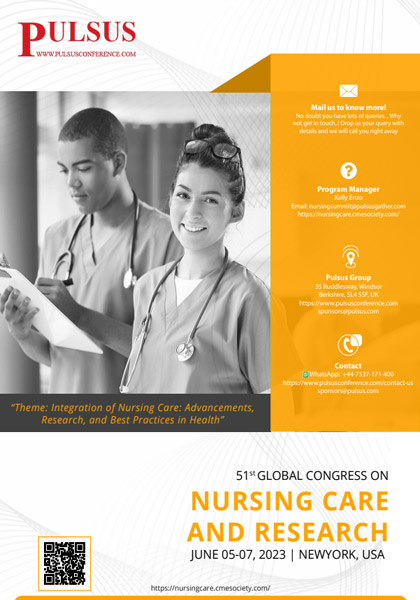 The "51st Global Congress on Nursing Care And Research" on June 05-07, 2023 in NewYork, USA with the theme "Nurses are the Hospitality of the Hospitals"
This annual Congress brings together healthcare professionals, educators, caregivers, and researchers from around the world, along with students and industry representatives, to review and communicate global nursing challenges and scientific achievements.
The Nursing Care Conference 2023 will lay the groundwork for networking with eminent Nurse Leaders from over 50 countries. Join us and explore the Advancements, Research, and Best Practices in Health. Join us and explore more about Nursing care and Research. We assure you that you can also enjoy the reunion of many friends and colleagues and the interaction with worldwide professionals. To really make this event noteworthy, we have created a selection of unique program activities. The conference will include a workshop and an expo in addition to a top-notch program with the best speakers and cutting-edge themes.