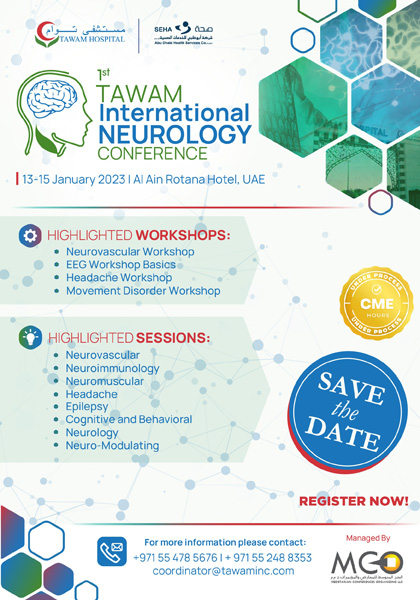 The 1st Tawam International Neurology Conference from 13 to 15 January 2023, Al Ain, UAE provides an exceptional environment, dedicated to the exchange of the latest scientific research, academic and industry researchers, neurologists, epileptologists, surgeons, nurses, general practitioners, and other specialists working in the field of neuroscience from all over the region. Your presence at the conference is an invaluable opportunity to introduce new developments and products to the medical community.
This Year's Conference
This year, the aim of the 1st TAWAM International Neurology Conference is to provide the highest standard for scientific (clinical & experimental), educational, and social exchange between professionals involved in the world of Neuroscience in order to achieve progress in the clinical care of patients. It also aims to build bridges between the umbrella of neuroscience practices all over the world to easily exchange knowledge and experience.